All WOCA products are developed and manufactured in Denmark with a sustainable philosophy that ensures safe application of environmentally friendly products. Whilst they are a global company they pride themselves on offering customised solutions and it is that focused approach that we here at Volume Trading appreciate and have embraced to help develop a number of unique products on combination with our wooden worktops. The new WOCA Worktop Gel is a great example of this collaborative approach that we are really enthused about.

WOCA Worktop Oil. 750 ml Coverage 10-12 m2

WOCA Worktop Oil is an air-hardening oil that penetrates deep into the wood, leaving a tough water- and stain -resistant surface that is safe for food contact. The oil highlights the wood's natural glow and gives the surface a natural, fresh appearance. Worktop Oil can be used on surfaces that are untreated or that have previously been oil-treated/sanded.

WOCA Maintenance Gel. 200 ml Coverage 20-30 m2

WOCA Maintenance Gel is for the care and maintenance of oiled indoor wooden surfaces and floors. The gel is quick-drying and leaves an attractive, water and dirt-repellent surface. Maintenance Gel is suitable for furniture, kitchen work surfaces, floors and other indoor wooden surfaces. It can also be used for improved results on factory-oiled / UV-oiled surfaces.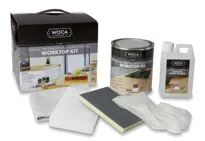 WOCA Worktop Kit.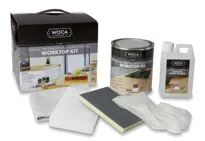 Our treatment and maintenance kit comprises of 1 x Worktop Oil, 250ml wood cleaner, Black sanding pad, white polishing pad, lint free cloth, a pair of gloves and comprehensive instructions. Everything you will need for on-going care and maintenance of your real wood worktop. Option available to include 20 slotted brackets in the kit to ensure correct fixation to allow for natural movement of the solid wood worktop through the seasons.